About Whalers
Founded in 2011, Whalers Brewing Company is a project by Josh Dunlap and Wes Staschke. We proudly brew, can, and keg all of our offerings on site at our facility in the historic Palisades Mill campus located in beautiful Southern Rhode Island.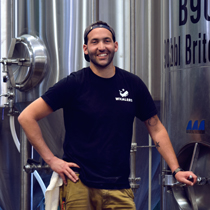 Josh Dunlap
Shortly after being honorably discharged from the United States Marine Corps, and while working as a commercial fisherman, Josh decided to make good on a longstanding dream to start a brewery. Now he spends his days making beer, with an eye towards higher ABV, barrel aged, and hoppier styles.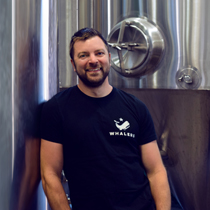 Wesley Staschke
Wes started brewing in 2008 while attending college, and after graduating with an engineering degree, continued to develop new recipes at home. Moving to Rhode Island in 2013, he began working on his own brewery before joining the Whalers team. Wes favors lighter, more sessionable beers, as well as his growing love of hard seltzers.
Awards & Recognition
Rise, 2023 "Best American-style Pale Ale", US
World Beer Awards
Rise, 2023 Gold Medal
International Craft Competition
Muse, 2023 Gold Medal
International Craft Competition
Drift - Cucumber Lime, 2023 Gold Medal
International Craft Competition
Muse, 2023 Gold Medal
Melbourne International Beer Competition
Drift - Cucumber Lime, 2023 Gold Medal
Berlin International Beer Competition
2023 "Rhode Island Brewery of the Year"
New York International Beer Competition
Rise, 2023 Gold medal
Concours International de Lyon
Muse, 2023 Gold Medal
New York International Beer Competition
Drift - Cucumber Lime, 2022 Gold Medal
Great International Beer, Cider, Mead & Sake Competition
Drift - Cucumber Lime, 2022 Gold Medal
Melbourne International Beer Competition
Rise, 2022 Gold Medal
Melbourne International Beer Competition
Rise, 2022 Gold medal
International Craft Competition
2022 "Rhode Island Brewery of the Year"
New York International Beer Competition
Rise, 2022 Gold medal
Concours International de Lyon
Rise, 2022 "Best American Style Pale Ale"
World Beer Championships
Rise, 2021 Gold Medal
Denver International Beer Competition
Rise, 2021 Gold Medal
World Beer Trophy
Rise, 2021 "Best American-style Pale Ale", US
World Beer Awards
2021 "USA Brewery of the Year"
Melbourne International Beer Competition
Rise, 2021 Gold Medal
Frankfurt International Trophy
2021 "Rhode Island Brewery of the Year"
New York International Beer Competition
Rise, 2020 "USA Pale Ale Brewery of the Year"
Asia International Beer Competition
Rise, 2020 "Pale Ale of the Year"
Meininger's International Craft Beer Award
Rise, 2020 Gold Medal
Frankfurt International Trophy
2020 "Rhode Island Brewery of the Year"
New York International Beer Competition
Rise, 2020 Gold medal
Concours International de Lyon
Blockstar, 2019 "Best American Wheat Ale"
Great International Beer, Mead & Cider Competition
Rise, 2019 "Best American-style Pale Ale", US
World Beer Awards
2019 "Best Brewery in Rhode Island"
Rhode Island Monthly
Ranked 40th fastest growing US brewery, 2018
Brewers Association
Rise, 2018 "Best American-style Pale Ale", US
World Beer Awards
2018 "Best Brewery in Rhode Island"
Rhode Island Monthly
Ranked 11th fastest growing US brewery, 2017
Brewers Association
2018 "Small Business of the Year"
Southern Rhode Island Chamber of Commerce
2018 "Rhode Island Brewery of the Year"
New York International Beer Competition
Rise, 2018 Silver Medal
Best of Craft Beer Awards
Rise, 2017-2018 "Five Star Beer"
The Beer Awards
Rise, 2017 "Best Pale Ale" in the United States
World Beer Awards
2017 "Best Brewery in Rhode Island"
Rhode Island Monthly
2017 "Small Business of the Year"
Southern Rhode Island Chamber of Commerce
2015 People's Choice "Best Brewery"
Great International Beer & Cider Competition (RI)
"Best No-Frills Brewery"
Yankee Magazine May & June 2015 issue
2015 "Hidden Gem"
Southern Rhode Island Chamber of Commerce
2014 People's Choice "Best Brewery"
Great International Beer & Cider Competition (RI)